Open-air burn pits have operated widely at military sites in Iraq and Afghanistan. Many returning Veterans are concerned about their exposure to smoke from burning trash and human waste.
Learn about:
Exposure to Smoke from Burn Pits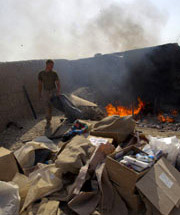 Photo by U.S. Department of Defense
Smoke produced by the burn may spread a variety of pollutants through the air that blows into working and living areas.
These toxins can include dioxin, particulate matter, hydrocarbons, volatile organic compounds, carbon monoxide, hexachlorobenzene, and ash.
The make-up of the smoke depends on what is being burned, which is not consistent from one burn pit to another, or from one time period to another at the same burn pit.
Health effects depend on a number of factors, such as the kind of waste being burned, individual susceptibility, duration of exposure, air flow patterns, and closeness to the pit.
You may be at greater risk if you burned waste at the pit compared to those were only in the vicinity of the smoke.
Possible Health Effects
Exposure to toxins may affect the skin, eyes, respiration, kidneys, liver, nervous system, cardiovascular system, reproductive system, peripheral nervous system, and gastrointestinal tract.
Most of the irritation related to solid waste burning exposure is temporary and resolves once the exposure is gone. These include:
Eye irritation and burning
Coughing and throat irritation
Breathing difficulties
Skin itching and rashes
Type of Waste Burned
Waste products in burn pits include, but are not limited to:
Chemicals
Paint
Medical and human waste
Metal/aluminum cans
Munitions and other unexploded ordnance
Petroleum and lubricant products
Plastics and styrofoam
Rubber
Wood
Discarded food
VA's Request for Health Effects Study
At the request of VA, the National Academy of Sciences Institute of Medicine began an 18-month study in November 2009 to determine the long-term health effects of exposure to burn pits in Iraq and Afghanistan. The study will compare the health of 30,000 combat Veterans deployed in Iraq and Afghanistan to 30,000 non-deployed Veterans. The report is due out by summer of 2011.
Exposure Assessment for Veterans
At this time, research has not shown long-term adverse effects from exposure to the burn pits, but VA takes this issue seriously. You may find out more about your exposure by getting an exposure assessment offered by VA's War Related Illness and Injury Study Centers.
The War Related Illness and Injury Study Centers (WRIISCs) provide clinical expertise for Veterans with deployment health concerns or difficult-to-diagnose illnesses. WRIISCs are in three locations: Washington, DC, East Orange, NJ, and Palo Alto, CA. For an appointment at a WRIISC, a VA primary care doctor must make a referral. Learn how to get a referral to a WRIISC.
VA Benefits
Veterans who were exposed to toxins released by burn pits during military service may be eligible for:
More Information on Burn Pits
-------------
SOURCE: U.S. Department of Veterans Affairs, http://www.publichealth.va.gov/exposures/burnpits/index.asp